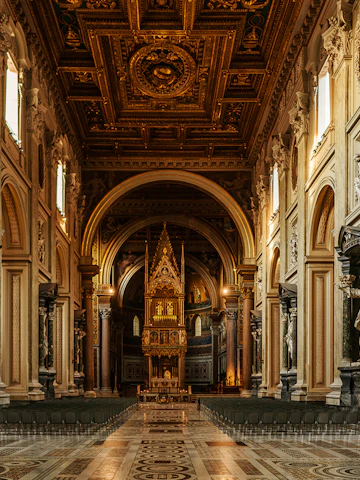 Immerse yourself in the religious history and papal culture of St. John Lateran, the oldest church in the western world, and the entire complex.
This consists of the Cloister, the Baptistery, the Holy Stairs (Scala Santa), and its Sancta Sanctorum chapel.
Explore this sacred location at your own pace with an informative audio guide available in English, French, Spanish, German, and Italian.
The St. John Lateran Basilica has a history dating back to early Christianity and was also where the Pope lived up to the XIV century.
Take note of the extraordinary details and Gothic architecture of the church, especially the 7-meter tall statue of Jesus – with the saints by his side – at the entrance, and the interior symbolic paintings of the Paleo-Christian tradition.
The Cloister is the widest in the city at 36-meters on each side. The gilded marble columns were carved by the most talented stonemasons of Rome – the Vassallettos.
Originally a place for monks to rest, pray, and meditate – feel the calm energy of this 800-year-old structure as you continue your self-guided tour.
The Baptistery is next with its iconic dome and two-tier colonnade. Look out for faded mosaic decorations and frescoes, and art left by artists such as Carlo Rainaldi (the altar), and Luigi Valadier (the statue of St. John Baptiste).
The Scala Santa or 'Holy Stairs' are extremely revered by worshippers who only climb up the stairs strictly on their knees.
Legend has it that these 28 marble steps were the stairs that Jesus climbed upon to Pontius Pilate's office during his trial.
The Sancta Sanctorum chapel is considered to be one of the holiest Christian spaces and holds ancient relics including an ancient image of Jesus the Saviour holding the New Testament.
Face masks are mandatory.
Both male and female visitors must follow an appropriate dress code wearing clothes that cover both shoulders and knees and no hats/caps.
To make the best of this 2-hour experience, start with the Basilica and the Cloister, and the Treasure Museum. Then proceed to the Baptistery located in the square behind.
Complete your tour by visiting the Holy Stairs and admiring the Chapel of the Sancta Sanctorum.
If you only have 1 hour, visit just the Basilica and its Cloister first, followed by the Holy Stairs and Sancta Sanctorum.
You can cancel these tickets up to 24 hours before the experience begins and get a full refund.